To help Canadians cope with the pandemic-induced recession, the Bank of Canada will continue to keep interest rates low – which is good news for not just residential mortgage buyers, but investors looking to borrow to buy commercial real estate.
In fact, interest rates are so low, they are negative real rates, economist Ben Rabidoux said in a Jan. 21 BDAR webinar. A negative real interest rate occurs when the interest rate is lower than the inflation rate.
The Bank of Canada's overnight rate is 0.25 per cent and the Bank Rate at 0.5 per cent, the Bank of Canada announced Jan. 20. The next scheduled date for announcing the overnight rate target is March 10.
The Bank of Canada is aiming to keep rates low, possibly until 2023. Its tactic is to buy up three to five-year bonds, which affect the most common mortgage, the 5-year fixed, he explained.
In the residential real estate market, this means that homeowners are opting to renegotiate. They are choosing to refinance to reduce their higher-cost debts like credit cards and instead increase their mortgage, which is at a much lower rate.
Credit card balances and other unsecured loan balances are down 12 per cent year over year, Rabidoux noted.
"Consumers are paying off higher-interest debt and swapping it for very low-interest mortgage debt. It's very good for the consumer," Rabidoux said. Video at 17:20
However, as property values rise, their net worth increases, which offsets the higher mortgage balance. They may also choose to invest in their real assets.
This chart shows the 5-year mortgage rate trend – and why renegotiations are occurring.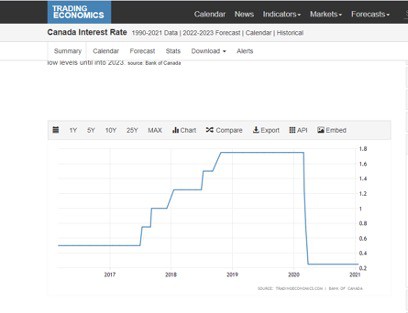 The Bank of Canada notes that it will continue to provide monetary policy support, as the pandemic continues to dampen spending and employment, particularly among the lowest-income quartile.
"Canada's economy had strong momentum through to late 2020, but the resurgence of cases and the reintroduction of lockdown measures are a serious setback. Growth in the first quarter of 2021 is now expected to be negative. Assuming restrictions are lifted later in the first quarter, the Bank expects a strong second-quarter rebound," it said in a Jan. 20 news release, available here.
The Bank of Canada noted real GDP declined 5.5 per cent last year, but the bank projects a 4 per cent growth this year, 5 per cent in 2022 and 2.5 per cent in 2023.
The Consumer Price Index inflation is about one per cent, and it is forecast to rise to about 2 per cent over the first six months of 2021, the bank projects, and stabilize there until 2023, when it could reach 2.5 per cent.
"The (bank) will hold the policy interest rate at the effective lower bound until economic slack is absorbed so that the 2 per cent inflation target is sustainably achieved. In our projection, this does not happen until into 2023," the bank said in a Jan. 20 news release.
"To reinforce this commitment and keep interest rates low across the yield curve, the Bank will continue its QE (quarantine easing) program until the recovery is well underway."
The bank added it will continue to purchase bonds. "We remain committed to providing the appropriate degree of monetary policy stimulus to support the recovery and achieve the inflation objective," it said.
Rabidoux said the Bank of Canada strives to contain inflation by increasing the money supply, which is at a 40-year high. As well, household savings are relatively high. If sitting still in a savings account, money doesn't create inflation, Rabidoux explained. However, later this year, as spending rises, inflation could begin to rise.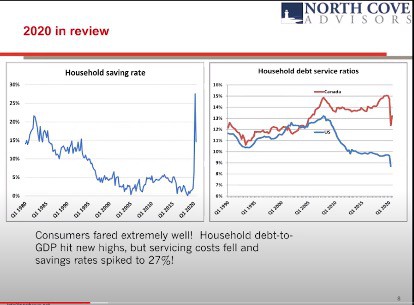 "After every pandemic, historically, there's been a period of consumer spending," the economist noted, adding there's $90 billion in savings accounts in Canada.
For higher income households, there's a propensity to invest – including in real estate. Now may be your time to consider investing in commercial real estate, especially as the market heats up. With our knowledge of the Barrie region, Squarefoot can help you find the best commercial properties for sale in Barrie. Our team of commercial realtors has more than 55 years of experience and vast knowledge of the Simcoe County markets. Find out what our clients say about us.
Call us at 705-735-2246 to find your dream commercial property listing!